01/31/2012
How Realtors Can Easily Get More Twitter Followers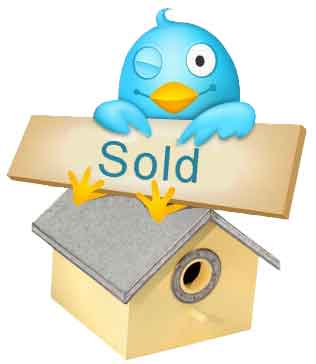 Twitter is a powerful tool that can quickly get you more buyer and seller leads right away.
No, it's not as simple as adding your Twitter profile link to your website or blog, but it is as easy as pushing a button when you use a tool like Tweet Adder, which I'll talk about below.
The problem that most agents face is understanding how Twitter works and then the bigger challenge, how to get more twitter followers.
Setting up an account is pretty simple, but actually getting relevant people following you is what stumps most agents.
What is Twitter?
Twitter is a social networking site too that has 'micro blogging' function. Those using Twitter can send and receive messages on their profile pages. These messages are called 'Tweets'. Usually 'tweets' are short messages containing up to 140 characters. Even though Twitter is essentially a micro-blogging site, you can engage in conversations that are deep and engrossing.
How to use Twitter for Real Estate:
There are innumerable ways to use Twitter and YES, you can use it for your various promotional activities.
Use Twitter to promote your blog - you can add your blog URL's and Headlines to Twitter.
Use Twitter for brainstorming - it actually works. If you are stuck and need help, just tweet; you will have suggestions tweeting!
Use Twitter to promote your list - share your list link on Twitter
Use Twitter to create your own list - it is very easy; you can do it at the click of a button!
Use Twitter to post previews of your upcoming blog posts
Use Twitter to get latest news updates in your industry; people usually tweet as soon as breaking news is out.
Use Twitter to promote new listings, just don't overdue it, else it's considered spam.
How to get thousands of relevant Twitter followers
There's a really cool tool called Tweet Adder which helps you add relevant followers. The power in this tool isn't just in adding anyone you want, it's in adding a very specific group of people from a specific area, like a zip code. In fact, you can even add your competitors' followers too!
Here's a snap shot from a Google Analytics account for a blog that used Tweet Adder:
"12,535 people could be going to your website right now! Imagine how many of those become leads and out of that, become buyer or seller leads. This can eliminate your need to cold call over the phone entirely."
Tweet Adder ranges in price between $55 and $188. The reason why there's a big price difference comes to the number of profiles you manage. Personally, I went with the unlimited profiles because you never really know what other business you'll need it for. I've seen many agents create profiles for each city they do business in. For example, one profile could be for Hollywood, another one can be for West Hollywood, then there's Beverly Hills, etc.
It takes 10-15 minutes to setup, then after that it's as easy as pushing a button. Try it out and leave a comment with how well it works out for you.
Do not forget to use us for your Maryland, Virginia and Washington D.C. Real Estate Continuing education classes. You can sign up easily at www.rempower.com/classes